Ideal location for walking to Central Square, the Keene Public Library or the Keene Recreation Center!
The Keene Friendly Bus stop is close-by taking passengers to key shopping and cultural areas in town. It is close to the Cheshire Medical Clinic and Hospital.
This lovely four-unit apartment building was built new in the 1990's! It offers very tidy, well-planned floor layouts with open-concept designs, a covered porch, full basement with laundry facilities and designated storage areas for each apartment and off-street parking for residents. A good-sized backyard invites outdoor cooking and socializing. Great layouts for its two 2-bedroom apartments and two 1-bedroom apartments. All kitchen have appliances including dishwashers.
No smokers or pets.
43 Carroll Street, Keene, NH — Apartments 1 - 4
43 Carroll St, Apt 1
(2 bedrooms):
Attractive spacious, two-bedroom open-concept apartment; wonderful natural lighting, large kitchen and generous living and bedroom space. Perfect for a manageable lifestyle. Hardwood and carpeted floors
Total Square Feet: 1035
Living Room: 175 SF
Kitchen: 96 SF
Dining Area: estimated 100 SF
Bedroom 1: 140 SF
Bedroom 2: 160 SF
Bath: 96 SF
43 Carroll St, Apt 2
(1 bedroom):
Charming and cozy, this one-bedroom design is efficient, modern and inviting. A perfect retreat for a busy person or couple.
Total Square Feet: 450
Living Room: 135 SF
Kitchen: 60 SF
Bedroom: 112 SF
Bath: 70 SF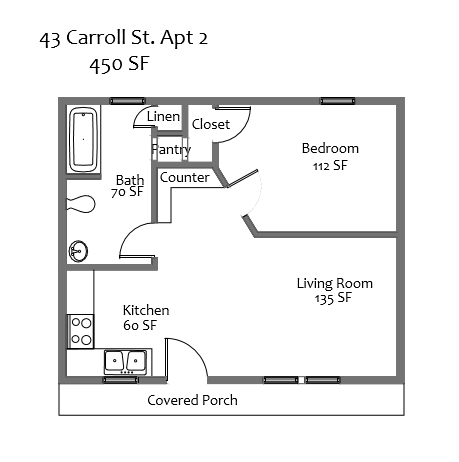 43 Carroll St, Apt 3
(2 bedrooms):
Beautiful, generous two-bedroom open-concept design apartment, easy-to-work-in kitchen, lots of natural lighting with a perfect layout for a very livable, easy-to-manage lifestyle.
Total Square Feet: 1035
Living Room: 165 SF
Kitchen: 115 SF
Dining Area: approx. 80-100 SF
Bedroom 1: 136 SF
Bedroom 2: 147 SF
Bath: 50 SF
43 Carroll St, Apt 4
(1 bedroom):
Cheerful and charming, this one-bedroom apartment is a perfect oasis for a couple or a single tenant looking for a tasteful layout and an inviting atmosphere.
Total Square Feet: 432
Living Room: 106 SF
Kitchen: 83 SF
Bedroom: 112 SF
Bath: 42 SF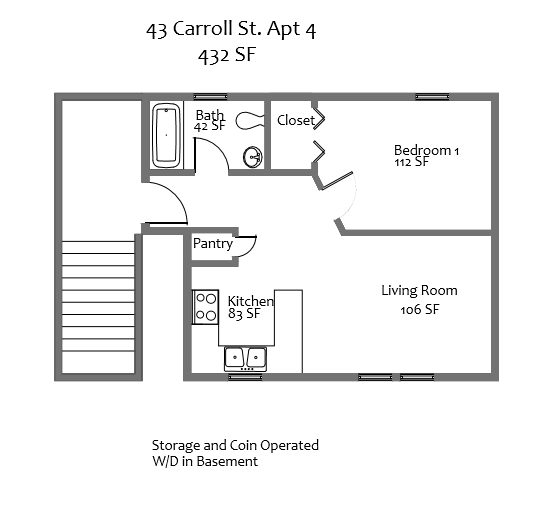 Contact us with questions or to arrange a showing.
Click or tap the button to contact Judy.